Egypt Maadi Factory 54 Window Decal
Features
These sticker decals have no background. The white in the picture is the decal. Perfect for your, car window or mirror, laptop or any other smooth clean surface.
The decals can be removed with ease, however will not be able to be reapplied once removed.
Decal Measures approximately 4 Inches.
How To Apply Your Car Decal:
CLEAN: Wipe clean the window or surface you are applying the decal to with a mild cleaner. Allow to dry.
PEEL: Carefully peel off the paper backing layer from the decal. (Only the white vinyl decal and the clear semi adhesive transfer layer should remain).
APPLY: Place your decal on the window or desired surface. Use a credit card to rub and smooth the decal onto the window/ surface.
REMOVE: Now remove the clear transfer layer by slowly peeling it off starting from the corner. (Only the vinyl decal should remain).
SHOW OFF: Take pictures and send them to your like minded friends and upload to social media remembering of course to send links to this page and tag us!!! (@faktory47, #faktory47)
Customer Reviews
10/09/2022
Grant

United States
Another one
Last one left me when I sold my truck sadly. Bought another with the same good quality. They hold well even in high heat when some stickers fail. Had my last one on for quite a while and elements never affected it. Transfers well to clean surfaces and doesn't hold to the transfer paper like cheap stickers. Comes packaged on thick cardboard so it's not LIKELY to get damaged...but with USPS...who knows. These aren't window stickers for window lickers, they are good quality, long story short. Put this recent one on my yeep. Next I need my actual dream maadi AK in the back seat.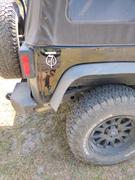 12/24/2020
PattonWasMurdered

United States
Sticky
It sticks like mud to an AR BCG. Good stickers are hard to find. I tried Elsa Frozen stickers my daughters have, Minnie Mouse stickers...they all fell off the truck windows. Not this sticker! It sticks like a Russian to the city of Stalingrad. Fast shipment like a German retreat.